Design-Build-Roof-Structure ...
<! start of Google AdSense code Apr-06-2006 -->
The design of the roof structure depends on the loading on the roof ... including wind loading, rain/snow loading, ..., choice of constituent building materials, the type of finish desired on the roof, roof insulation considerations, ...
The roof makes a major part of the building shell.


In our discusion of the anatomy of a building roof we talked about the roof structure as being the skeleton. Typically, the roof weatherproofing, and the aesthetic considerations (the looks) dictate the choice of the roof type to be used.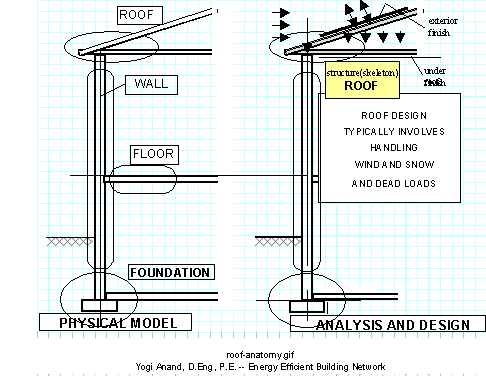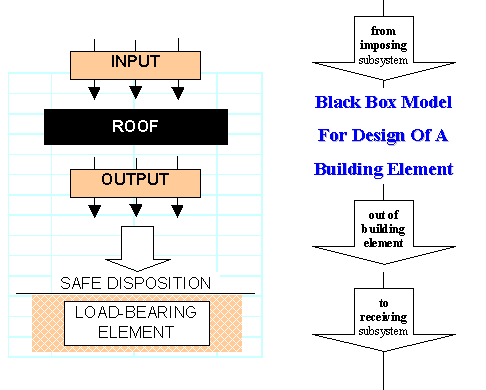 Input
Roof dead and live loads, such as the self load of the roof structure and the roof covering, the wind loading, the rain/snow loading, and loading from other extreme forces such as hurricanes, and earthquakes, ...

Roof
As I discussed in the structural member configuration the roof structure has to be designed in such a way that it can safely transfer the input loads to the building's load bearing walls, and columns if any.

Ultimately, all the loding imposed on the roof has to be transfered to the supporting beams, columns if any, load-bearing walls, then to the building foundation and finally to mother earth.

We need to ensure that the roof structure is capable of carrying and transfering the input loading safely and securely to the supporting medium downstream.

The design of the roof-structure will depend on the major constituent materials as we discussed in the anatomy of a building roof. As far as the roof structure is concerned, the more common ones today are ...
flat roof deck
low-pitch roof trusses
pitched roof trusses
pitched roof with hips, valleys, dormers
roof with sky-light(s)
dome roof
folded-plate roof
shell roof
....
....
Output
In designing the roof structure as a system, we have to ensure that the loads from the roof structure can be safely carried by the supporting medium, the roof beams, roof trusses, roof girders, columns if any, and the load bearing walls, and so on.
---
beginning of Design-Build-Roof-Structure
back to our home page
For further information or help with your specific building roof project, or any part of it such as ...
roof structural arrangement
design of roof beams
dessign of roof deck
design of roof trusses
....
....
Fill in the following form to subscribe to our upcoming news letter, to keep
up with our latest updates, and to tell us how we can help:
Partner With Us
If you are involved with energy efficient building projects as:
Designer
Architect
Engineer
Contractor
Specialty contractor
Surveyor
Developer
Supplier
Financier
....
we invite you to tell us about yourself by filling in the special contact form
I have setup for your convenience. Let us see if we can create synergy
by utilizing our combined resources and create a win-win situation!



---


Yours Sincerely


Yogi Anand, D.Eng, P.E.

Energy Efficient Building Network LLC
308 Longford Dr -- Rochester Hills MI 48309 U.S.A.
Phone: +1-248-375-5710; Cell: +1-248-766-1546

if you want a well insulated home with insulating concrete forms we are the experts for energy efficient home designs