Roof-Anatomy ...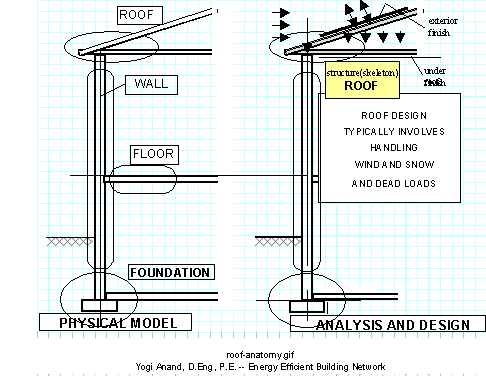 ---
Oh brother anatomy -- no worries, I am not going to bore you with physically disecting the roof, we just want to peek into the makeup of the foundation, no load calculations or stress analysis here either -- this is just to present to you pictorially what is going on behind the scenes.

Roof of Your energy efficient Home / Building Should

be structurally sound
be good-lookung
be weather-proof
be cost-effective
provide good insulation
be resistant to natural hazards
be functional
...
There are a number of options for designing the roof out there today that will meet the preceding requirements. Let us look at a brief summary of the various materials, configurations and characteristics of such a roof.
Major
Materials
Typical
Configurations
Key
Characteristics
Concrete
In-Situ Concrete
Field Built
Wood
Precast Concrete
Shop Built
Steel
Wood joists
Combo: Shop & Field
Plastics
Steel joists
Panelized
Straw Bale
Wood Frame / Truss
Tilt-Up
Adobe
Steel Frame / Truss
Laminate Construction
Autoclaved Concrete
Light Gage Steel
Structurally Adhesed
Grancrete
ICF (Insulating Concrete Form)
Pressed
...
SIP (Structural Insulated Panel)
Engineered Lumber
...
...
Stressed Skin Construction
...
...
...
...
...
...
---
It behoves all of us to use energy wisely. And with the enormous increase in energy prices, it also makes economic sense. Typical roof configuration options will include some of the following ...
nominally flat roof
low-pitch roof
pitched roof
pitched roof with hips, valleys, dormers
roof with sky-light(s)
dome
folded-plate
shell
arched
....
....
which have a number of variants with unique characteristics and features. The options that provide more energy eficient solutions are gaining in popularity over the traditional plain vanilla ones.

At Energy Efficient Building Network, we can help you with the roof design-build requirements of your energy efficient building project.
---
beginning of Roof-Anatomy
back to our home page
For further information or help with your energy efficient dream home / building project, or its parts, such as ...

Energy Efficient Roof Structure
Roof Finish
Design of Roof Structure
Design of Roof Structural Components
Design of Roof Insulation
....
....
Fill in the following form to subscribe to our upcoming news letter, to keep
up with our latest updates, and to tell us how we can help:
Partner With Us
If you are involved with energy efficient building projects as:
Designer
Architect
Engineer
Contractor
Specialty contractor
Surveyor
Developer
Supplier
Financier
....
we invite you to tell us about yourself by filling in the special contact form
I have setup for your convenience. Let us see if we can create synergy
by utilizing our combined resources and create a win-win situation!



---


Yours Sincerely


Yogi Anand, D.Eng, P.E.

Energy Efficient Building Network LLC
Phone: +1-248-375-5710; Cell: +1-248-766-1546