Let us look at the makeup of the basement and superstructure walls of your energy efficient building project. The choice of construction depends on many factors, such as regional climatic conditions, code considerations, regional environment, availability of related skilled trades, and so forth. One other consideration is whether the Model Energy Code has been adopted in the region, which raises the bar on requiring the use of energy efficient construction.

Basement Walls
These used to be mostly of concrete block masonry, or cast-in-place concrete (poured concrete in popular lingo) -- not any more. With advancement in materials and construction-methods technology, interest in energy-efficiency, environmental-impact awareness, and so on, there are many more options available.

Superstructure Walls
Stick ... 2x4 stud for residential and 2x6 stud for commercial used to be the popular choice, but now again with advances in construction technology, availability of so many more materials, interest in -energy efficiency, environmental-impact awarenesss, ... there are many more worthwile options to consider and choose from.
Wall Construction Choices
Let us look at some of the current choices in construction of today ...
Block Masonry for residential construction
is still quite popular with contractors that feel more comfortable with what they have been working with for years and are not eager to pick up newer techniques and building with newer materials. Some block masonry masons are beginning to leverage their skill to work with insulating concrete form (ICF) block construction.
Concrete Wall ... Cast-in-place (poured concrete) construction is also
still popular with contractors who feel comfortable with what they have been working with for years -- they know what has been working for them ... this way they don't have to risk learning newer technologies and avoid the possibility of making mistakes. It is short sightedness however because more efficient, more cost-effective, and more energy efficient methods are available today.
Stud Wall Construction using wood or metal studs ...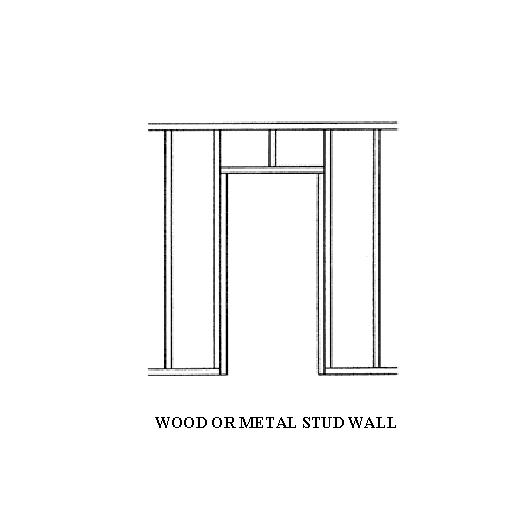 2x4 stud wall construction is commonly used for single family residential and 2x6 for multi-family and commercial buildings. Metal C-studs are also being used in lieu of wood studs. The exterior wall constitutes a large part of the total insulated package. In exterior walls, a 2x4 stud wall allows for 3.5" of insulation while a 2x6 wall offers upto 5.5" of insulation. With the use of 2x6 studs spaced a 24" c/c in contrast to 16" spacing of 2x4 studs, not only is the depth of the wall cavity increased but the width of the cavity is also increased. Studs conduct more heat than the insulation since it extends through the wall cavity and has a smaller R-value. So, in 2x6 construction there are fewer studs in the exterior wall and less heat is conducted through the wall. So with 2x6 studs, even though exterior walls construction cost may be a little higher, the overall savings in energy usage may offset the additional cost of using 2x6 studs.
Insulating Concrete Form Construction which uses reinforced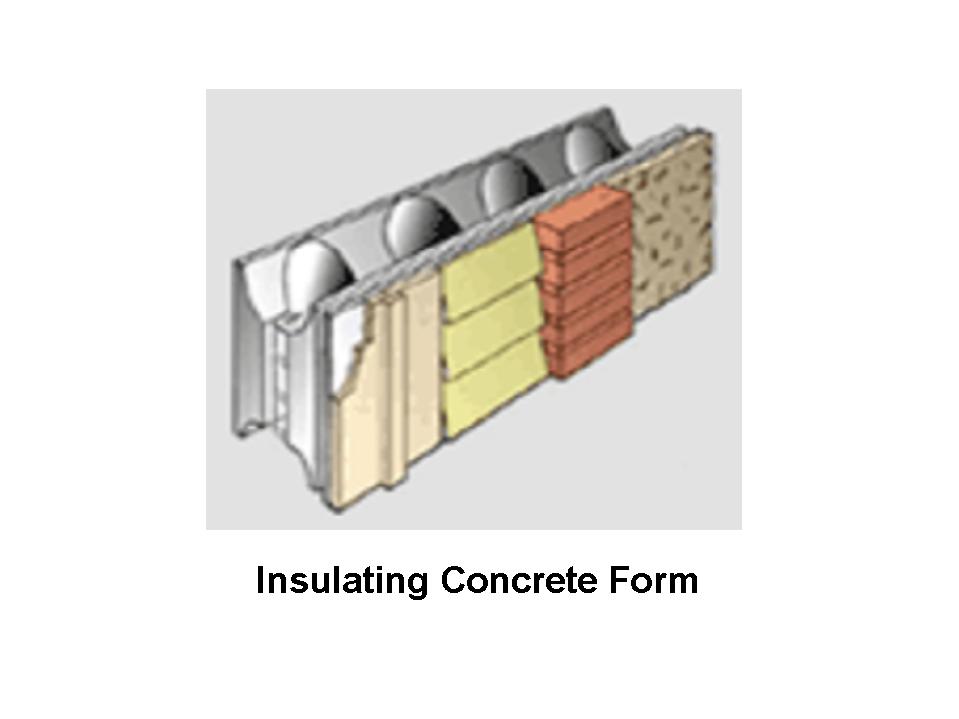 concrete as structure and where insulation does double duty also as permanent stay-in-place formwork for concrete during placement is a very attractive choice for Walls of energy efficient buildings. The insulating material, typically expanded polystyrene (EPS) affords a variety of state-of-the-art exterior finishes, such as siding, brick, cultured stone, stucco, and so on.
Structural Insulated Panels (SIP) consist of two outer skins and an inner insulation core.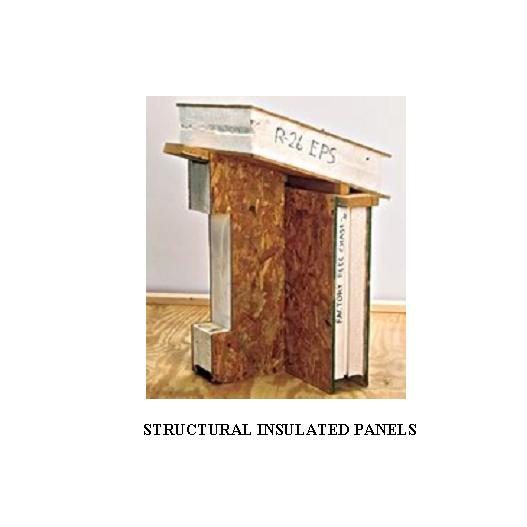 Most structural panels today use either plywood or oriented strand board (OSB) as skins. OSB is most commoly used because it is available in large size upto 12 ft by 36 ft. Expanded polystyrene (EPS) is the most commonly used insulation core material. Extruded polystyrene (XPS) commonly known as styrofoam, polyurethane foam and isocyanurate are also used as the inner core but predominantly EPS is the used as the inner core.
Precast Concrete Wall Construction ... Precast concrete walls use
use high-strength concrete, typically 5,000 psi with reinforcing steel and fibers. The precast concrete walls have full-length insulation built in to increase energy efficiency. They are smart, with convenient features like built-in accesses for wiring and treated wood nailers for drywall. An important feature for builders is the speed of installation. The walls have a built in footing to be placed on a base of stone. It takes just hours to install a typical home foundation.
Using Energy Efficient Walls
We ought to use energy wisely. Our homes and buildings consume a fair share of our total energy use. With the increasing energy prices, it makes even more sense economically.

You will see the wall disected and I talk about the Structure (The Skeleton) of the Wall, and the Exterior Finish and Interior Finish (The Skin) of the Wall. From there we will move on to the current choices in energy efficient walls and wall-systems.



---
beginning of walls
back to our Energy Efficient Building Network home page
Fill in the following form to subscribe to our upcoming news letter, to keep
up with our latest updates, and to tell us how we can help:
Partner With Us
If you are involved with energy efficient building projects as:
Designer
Architect
Engineer
Contractor
Specialty contractor
Surveyor
Developer
Supplier
Financier
....
we invite you to tell us about yourself by filling in the special contact form
I have setup for your convenience. Let us see if we can create synergy
by utilizing our combined resources and create a win-win situation!



---


Yours Sincerely


Yogi Anand, D.Eng, P.E.

Energy Efficient Building Network LLC
308 Longford Dr -- Rochester Hills MI 48309 U.S.A.
Phone: +1-248-375-5710; Cell: +1-248-766-1546