Our Recent-Projects Include New Construction As-Well-As Addition and Renovation of House, Commercial, Condo, Light-Industrial, Multi-Family Buildings, ...
In our Sep-18-2006 update we talked about installing Insulation Under Basement Slab for Stehr House in Highland Twp Michigan

The STEHR house sits on a hilly lot. We have mowed down the front of the hill for the walk-out basement. The First Floor will be near the top of the hill. The septic tank and the septic field will be gravity fed from the First Floor level.

The Basement Floor has a full Bath Room. So there is a Grinder Pump in the Basement. Plumbing work for the STEHR house is being done by R & B Plumbing.

<!begin Apr-12-2006 ARC_1yae-101-->
---
A shot of the Basement Plumbing with the Green Tag for having passed the Plumbing Inspection ... Picture 1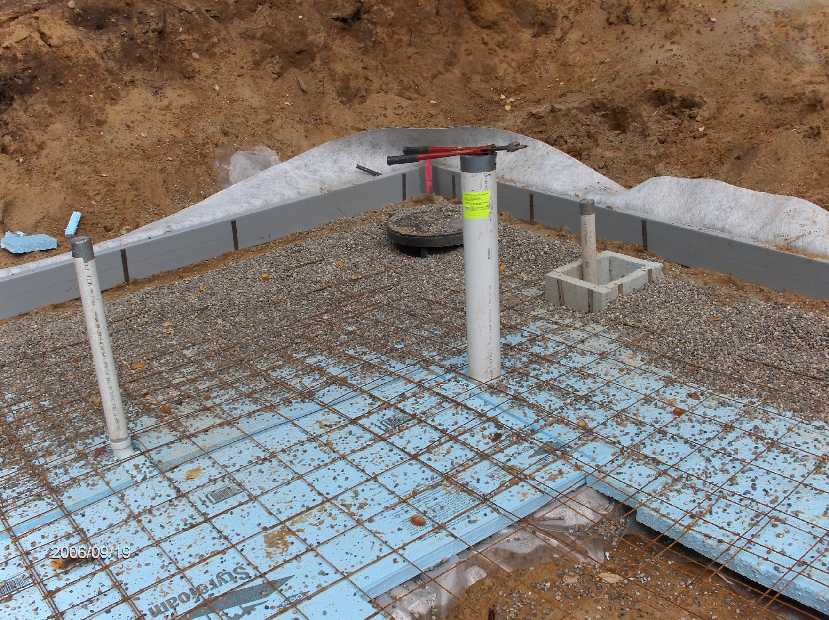 ANAND Enterprises project SteG2yae-101 New ICF House for Gary and Pam Stehr in Highland Township Michigan
---
<! end Apr-12-2006 ARC_1yae-101-->

beginning of Basement-Plumbing_for-Stehr-House-in-Highland-Twp-Michigan

back to our Energy Efficient Building Network home page

Fill in the following form to subscribe to our upcoming news letter, to keep
up with our latest updates, and to tell us how we can help with your Dream Home building project:




Partner With Us
If you are involved with energy efficient building projects as:
Designer
Architect
Engineer
Contractor
Specialty contractor
Surveyor
Developer
Supplier
Financier
....
we invite you to tell us about yourself by filling in the special contact form
I have setup for your convenience. Let us see if we can create synergy
by utilizing our combined resources and create a win-win situation!



---


Yours Sincerely


Yogi Anand, D.Eng, P.E.

Energy Efficient Building Network LLC
308 Longford Dr -- Rochester Hills MI 48309 U.S.A.
Phone: +1-248-375-5710; Cell: +1-248-766-1546
yogi@energyefficientbuild.com