Design-Build-Exterior-Wall-Finish ...
The exterior finish on the building wall has to satisfy both the form and the functional requirements -- it has to be aesthetically appealing and at the same time it has to protect the building envelope from the elements.
<! start of Google AdSense code Apr-06-2006 -->
In our discusion of the anatomy of a building wall we talked about the exterior finish as being the skin on the skeleton (structure) of the wall.

The exterior wall surfaces constitute a major and a very important element of the building envelope.

Exterior wall finish needs to be not only functional but also needs to provide for a great curb-side appeal to make you proud of the looks of your dream home.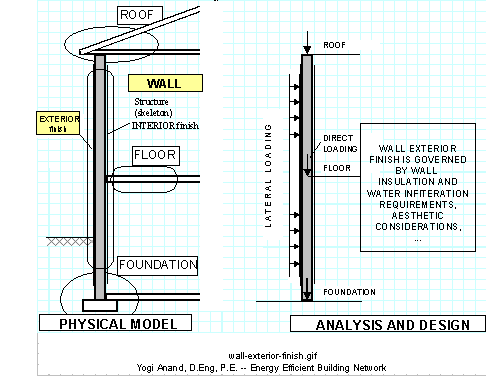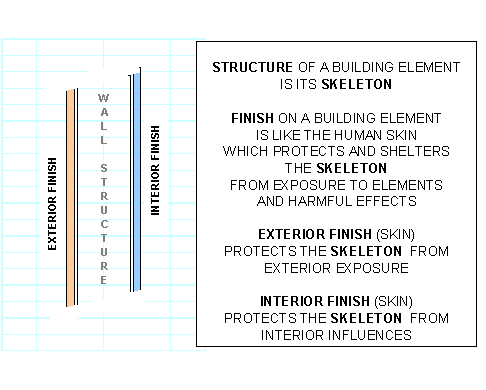 Input
Exposure to natural elements ... wind, sun, rain / snow normal and extreme forces as hurricanes and earthquakes.

Walls
You want the exterior of your walls to be aesthetically appealing -- good looking, and you want the exterior finish on the walls to be a protective barrier.As I discussed in the structural member configuration the wall major constituent material may be concrete, wood, plastic, or metal. The choice of the exterior skin is also affected by the wall structural material.

Some of the common choices in wall exterior finishe today are ...
face brick
siding
cultured stone
stucco
EIFS (Exterior Insulated Finish System)
wall panels
....
....
We want to ensure that the exterior finish applied to the wall structure is compatible with the constituent material of the wall structure.
Output
We want to ensure that the exterior finish applied to the wall structure satisfies the aesthetic appeal requirements, provides for trouble free service, and is easily maintainable.

It should look good. It should provided needed protection from elements. It should be non-toxic, it should provide for good thermal insulation, and it should also eliminate or minimize air infiltration.
---
beginning of Design-Build-Exterior-Wall-Finish
back to our home page
For further information or help with your specific building walls exterior finish or part of it, such as ...

designing exterior wall finish
installing exterior wall finish
inspecting / certifying exterior wall finish
....
....
Fill in the following form to subscribe to our upcoming news letter, to keep
up with our latest updates, and to tell us how we can help:
Partner With Us
If you are involved with energy efficient building projects as:
Designer
Architect
Engineer
Contractor
Specialty contractor
Surveyor
Developer
Supplier
Financier
....
we invite you to tell us about yourself by filling in the special contact form
I have setup for your convenience. Let us see if we can create synergy
by utilizing our combined resources and create a win-win situation!



---


Yours Sincerely


Yogi Anand, D.Eng, P.E.

Energy Efficient Building Network LLC
308 Longford Dr -- Rochester Hills MI 48309 U.S.A.
Phone: +1-248-375-5710; Cell: +1-248-766-1546