Grancrete is a recent development. It can be made from locally available materials. It can be used in building houses using local labor.

It is a sprayable ceramic. It sets quickly. It does not crack. It seems to have many beneficial properties and attributes.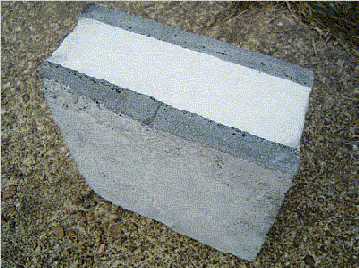 Grancrete is a product to watch. It is claimed to have many benefits. It is made using sand, ash, magnesium oxide, and potassium phosphate. It is stronger than concrete. It sets quickly. It does not crack.

It can be applied to a number of surfaces -- expanded polystyrene (EPS), metal, wood, ....


Grancrete
is ceramic material
is stronger than concrete
is sprayable

on EPS, styrofoam
on metal
on wood
...

is fire-resistant
provides good insulation in
...
Grancrete was developed by Dr. Arun Wagh at Argonne National Laboratory and is marketed by Grancrete LLC.
---
beginning of Grancrete
back to our wall-anatomy page
back to our home page
Fill in the following form to subscribe to our upcoming news letter, to keep
up with our latest updates, and to tell us how we can help:
Partner With Us
If you are involved with energy efficient building projects as:
Designer
Architect
Engineer
Contractor
Specialty contractor
Surveyor
Developer
Supplier
Financier
....
we invite you to tell us about yourself by filling in the special contact form
I have setup for your convenience. Let us see if we can create synergy
by utilizing our combined resources and create a win-win situation!



---


Yours Sincerely


Yogi Anand, D.Eng, P.E.

Energy Efficient Building Network LLC
308 Longford Dr -- Rochester Hills MI 48309 U.S.A.
Phone: +1-248-375-5710; Cell: +1-248-766-1546