Energy Efficient Building Network Uses Local Resources and Professional Partners For Global Reach
Energy Efficient Building Network is all about creating successful energy efficient building projects. How ... you ask? Well through networking with all the related professionals and building trades.
Whether we are working at a project in Michigan, which is our home base, or outside of Michigan, we use local resources, and we partner and network with local professionals to create a successful project. There is need to create energy efficient building projects everywhere.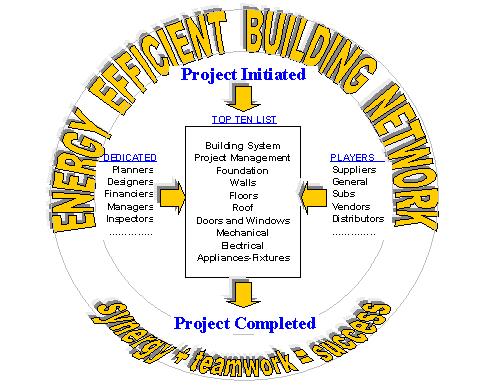 In our energy efficient building network projects, teamwork and synergy of networking are at play to deliver a successful project cost-effectively and in a timely manner to create a win-win situation for all the members of the network.
With the increasing awareness that we are all together in it, the whole world is but just a global village. In this digital world of ours, with use of the internet, we are only a click away from tapping into the vast global resources. At Energy Efficiency Building Network we utilize local resources, and we team up and partner with the local professionals ... planners, financiers, designers, contractors, suppliers, ... to create successful energy efficient building projects.
---
beginning of Design-Build-Projects
back to our home page
For further information or help with your dream home / building project, or its parts, such as ...

Project Planning
Project Feasibility study / investigation
Project Financing
Project Site Evaluation / Selection
Project Design
Project Construction
....
Fill in the following form to subscribe to our upcoming news letter, to keep
up with our latest updates, and to tell us how we can help:
Partner With Us
If you are involved with energy efficient building projects as:
Designer
Architect
Engineer
Contractor
Specialty contractor
Surveyor
Developer
Supplier
Financier
....
we invite you to tell us about yourself by filling in the special contact form
I have setup for your convenience. Let us see if we can create synergy
by utilizing our combined resources and create a win-win situation!



---


Yours Sincerely


Yogi Anand, D.Eng, P.E.

Energy Efficient Building Network LLC
308 Longford Dr -- Rochester Hills MI 48309 U.S.A.
Phone: +1-248-375-5710; Cell: +1-248-766-1546
yogi@energyefficientbuild.com