Our Recent-Projects Include New Construction As-Well-As Addition and Renovation of House, Commercial, Condo, Light-Industrial, Multi-Family Buildings, ...
In this update I will talk about getting ready for excavating for the Stehr House. We started the writeup of this ICF house on Aug-12-2006. Kevin worked on clearing the site on Aug-24th and 25th -- clearing all the vegetation, shrubs, and trees from the location of the house. Gary had told Kevin to keep all the trees that could be kept, and remove only that would be in the way of building the house. The long winding driveway from the private access road to the house indeed would make for a scenic route.

Dave Dotson and I had started staking out the house earlier this afternoon so that Dan could start work on excavating the basement. I have proposed using the monolithic slab -- combination basement slab and footings. And for the walkout portion where there wouldn't be enough soil cover, we will have a trench footing filled with stone at the bottom and of course a thickened concrete edge for the slab.

We are considering the option of construction road closer to the house for ease of access for heavy equipment, and ready-mix concrete trucks. I am going to discuss this further with Dan, Dave, and Gary.

<!begin Apr-12-2006 ARC_1yae-101-->
---
Pictured in front of the wooded lot are Dan Olsway -- subcontractor for excavation, access road, the driveway for the new house, and Gary Stehr, the Home Owner. Not in the picture are Dave Dotson who was earlier on the site today, and Charlie who is working with Dan ... Picture 1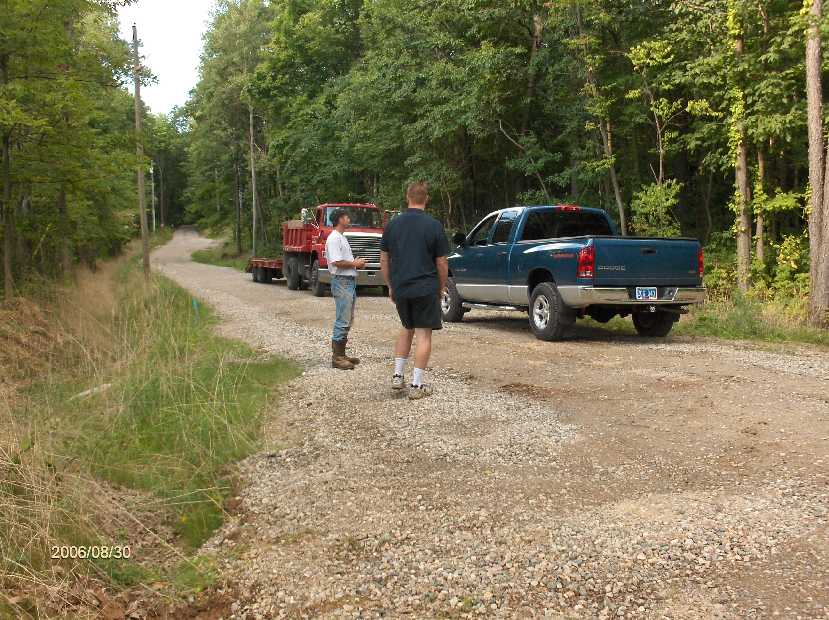 ANAND Enterprises project SteG2yae-101 New ICF House for Gary and Pam Stehr in Highland Township Michigan
---
Dan has started working on the driveway -- removing the vegetation and organic material off the base of the driveway ... Picture 2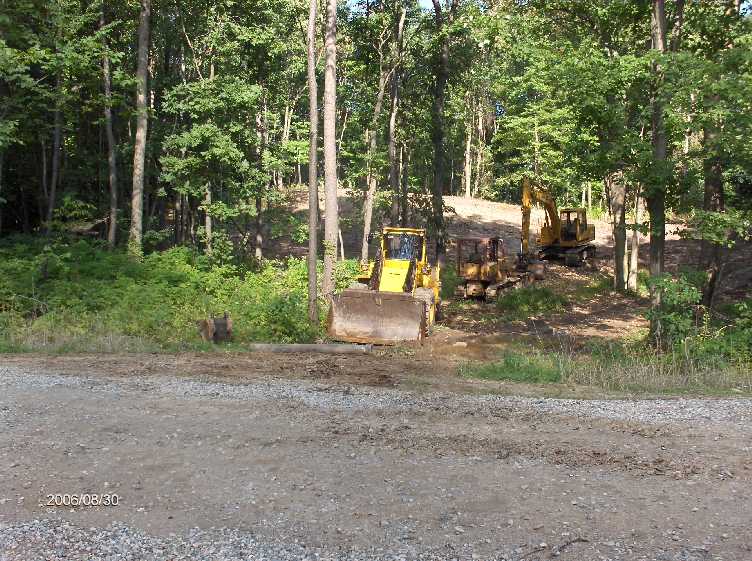 ANAND Enterprises project SteG2yae-101 New ICF House for Gary and Pam Stehr in Highland Township Michigan
---
<! end Apr-12-2006 ARC_1yae-101-->

beginning of New ICF House Project in Highland Township Michigan

back to our Energy Efficient Building Network home page

Fill in the following form to subscribe to our upcoming news letter, to keep
up with our latest updates, and to tell us how we can help with your Dream Home building project:




Partner With Us
If you are involved with energy efficient building projects as:
Designer
Architect
Engineer
Contractor
Specialty contractor
Surveyor
Developer
Supplier
Financier
....
we invite you to tell us about yourself by filling in the special contact form
I have setup for your convenience. Let us see if we can create synergy
by utilizing our combined resources and create a win-win situation!



---


Yours Sincerely


Yogi Anand, D.Eng, P.E.

Energy Efficient Building Network LLC
308 Longford Dr -- Rochester Hills MI 48309 U.S.A.
Phone: +1-248-375-5710; Cell: +1-248-766-1546
yogi@energyefficientbuild.com