Reinforcing-An-Existing-Wall-Header-And-Supporting-Posts

Project: HatD1yae-101-03k-eebn
from our portfolio of Recent Projects
Our Recent-Projects Include New Construction As-Well-As Addition and Renovation of House, Commercial, Condo, Light-Industrial, Multi-Family Buildings, ...
Here was a case where the ICF header's reinforcing steel and concrete placement had not been inspected by the Building Department, nor was the reinforcing steel cecked and the concrete placement witnessed by a Professional Engineer or Registered Architect.

Because of some additional technical and legal issues, the Building Department required that the reinforcing steel in the header and the concrete strength be verified to meet design and code requirements.

In addition to its own weight the ICF header was also carrying load from roof trusses. We decided to use both analysis and testing -- and set out to remove the foam on the inside, and chip out the concrete to determine the location and size of reinforcing bars.

Based on our investigation, the alternate presented here required reinforcing the bottom of the ICF header and the sides of the supporting posts, the jambs, with structural steel channels.

I am depicting in the following a picture showing the longitudinal view of the ICF wall and the related design data.




Reinforcing-An-Existing-Wall-Header-And-Supporting-Posts ... Picture 1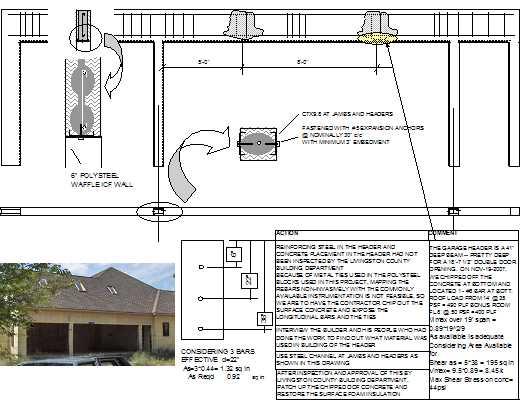 ANAND Enterprises project Reinforcing-An-Existing-Wall-Header-And-Supporting-Posts (HatD1yae-101-03k-eebn)
---
<! end Apr-20-2006 -->




beginning of Reinforcing-An-Existing-Wall-Header-And-Supporting-Posts

back to our Energy Efficient Building Network home page

Fill in the following form to subscribe to our upcoming news letter, to keep
up with our latest updates, and to tell us how we can help with your Dream Home building project:




Partner With Us
If you are involved with energy efficient building projects as:
Designer
Architect
Engineer
Contractor
Specialty contractor
Surveyor
Developer
Supplier
Financier
....
we invite you to tell us about yourself by filling in the special contact form
I have setup for your convenience. Let us see if we can create synergy
by utilizing our combined resources and create a win-win situation!



---


Yours Sincerely


Yogi Anand, D.Eng, P.E.

Energy Efficient Building Network LLC
308 Longford Dr -- Rochester Hills MI 48309 U.S.A.
Phone: +1-248-375-5710; Cell: +1-248-766-1546
yogi@energyefficientbuild.com