Needed-Good-Drawings-And-Contractor-With-Common-Sense.html
It is an interesting shot (posted by CO Engineer on tek-tips.com) of a drawing of steps with a Detail Designator and a Lead Line.

You will notice on close examination that allegedly the Lead Line for the Detail Designator was mistakenly taken as part of the drawing to build an additional step shaped to match the lead Line.

Well, the title here is befitting ... We need Good Drawings and Contractor With Common Sense.

It is hard to overemphasize the need for clear drawings -- and again one can not over emphasize the need for a smart contractor with a lot of common sense. And let me also add, it is essential to have a team of competent professional working in concert.

Well, what do you think, did it indeed get built like this?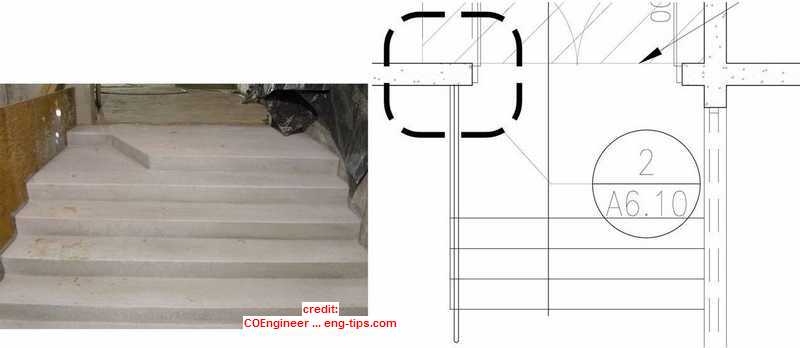 Needed-Good-Drawings-And-Contractor-With-Common-Sense



<! end Apr-20-2006 -->



beginning of Needed-Good-Drawings-And-Contractor-With-Common-Sense.html
back to our Project-OhShucks
back to our Project
back to our Energy Efficient Building Network home page


Fill in the following form to subscribe to our upcoming news letter, to keep up with our latest updates, and to tell us how we can help with your Dream Home building project:
Partner With Us
If you are involved with energy efficient building projects as:
Designer
Architect
Engineer
Contractor
Specialty contractor
Surveyor
Developer
Supplier
Financier
....
we invite you to tell us about yourself by filling in the special contact form I have setup for your convenience. Let us see if we can create synergy by utilizing our combined resources and create a win-win situation!



---


Yours Sincerely


Yogi Anand, D.Eng, P.E.

Energy Efficient Building Network LLC
308 Longford Dr -- Rochester Hills MI 48309 U.S.A.
Phone: +1-248-375-5710; Cell: +1-248-766-1546