ICF Home Project With Basket Ball Court in Basement in Milford Michigan
Project RedW1yae-149 ... Jul-01-2006 Update
from our portfolio of Recent Projects
Our Recent-Projects Include New Construction As-Well-As Addition and Renovation of House, Commercial, Condo, Light-Industrial, Multi-Family Buildings, ...
As I described in ICF Home Project With Tall Basement Walls in Milford Michigan ANAND Enterprises Project RedW1yae-149, for this ICF home project with tall basement walls in Milford Michigan on a sloping terrain, we designed the tall ICF walls with exterior buttresses (pilasters). The house was originally designed with cast-in-place concrete (poured concrete) walls. The basement has a Sports court that houses a Basket Ball court.

The footings for a cast-in-place concrete had been installed. After the construction of the footings, the owner decided to switch from the cast-in-place concrete basement walls to ICF. Also the height of the Basement was increased.

In the following, I have provided a design for the addition to the footings that had already been installed to incorporate buttresses (pilasters) on the exterior face of the walls ...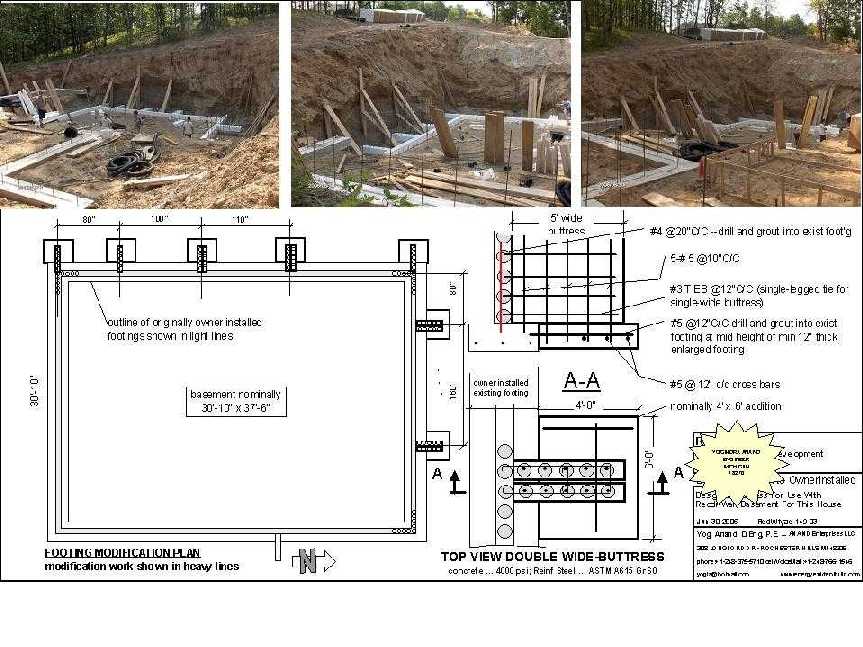 ANAND Enterprises project RedW1yae-149 -- Design For ICF Home Project With Tall Basement Walls in Milford Michigan <! end Apr-20-2006 -->



beginning of Design For ICF Home Project With Tall Basement Walls Jul-01-2006 Update
back to our Energy Efficient Building Network home page
Fill in the following form to subscribe to our upcoming news letter, to keep
up with our latest updates, and to tell us how we can help with your Dream Home building project:
Partner With Us
If you are involved with energy efficient building projects as:
Designer
Architect
Engineer
Contractor
Specialty contractor
Surveyor
Developer
Supplier
Financier
....
we invite you to tell us about yourself by filling in the special contact form
I have setup for your convenience. Let us see if we can create synergy
by utilizing our combined resources and create a win-win situation!



---


Yours Sincerely


Yogi Anand, D.Eng, P.E.

Energy Efficient Building Network LLC
308 Longford Dr -- Rochester Hills MI 48309 U.S.A.
Phone: +1-248-375-5710; Cell: +1-248-766-1546