Framing-for-Suspended-Fan-Ceiling-2_Building-in-Wayne-Michigan
Project US_A1-101 ... Mar-11-2007 Update
from our portfolio of Recent Projects
Our Recent-Projects Include New Construction As-Well-As Addition and Renovation of House, Commercial, Condo, Light-Industrial, Multi-Family Buildings, ...
In my Mar-09-2007 post on Framing-for-Suspended-Fan-Ceiling_Building-in-Wayne-Michigan , I posted some pictures of the fan ceiling under construction.

The contractor could not proceed further until the receipt, review, and approval of the structural design of this appurtenance by the City of wayne Building Department.

The suspended fan ceiling is framed in wood and is mostly hung from the roof structure overhead. There are two wooden bucks that are hung with metal straps from the roof structure. The ceiling rafters are in turn fastened to the wood bucks with hurricane hangers. I have also used two aircraft cable hangers fastened to the wood rafters at the front part of the suspended ceiling canopy. The soffit of the suspended fan ceiling and the facia will be drywalled.

I am presenting here a drawing of the suspended fan ceiling that I submitted to the Building Official on Mar-08-2007 and the owner did get the review approval from the Building department on Mar-09-2007. The Owner is anxious to get this beautiful ceiling completed for a sneak preview of the facility upgrade on Saint Patrick's Day. I am sure the General Contractor and his great crew are going to make that happen.




Framing-for-Suspended-Fan-Ceiling-2_Building-in-Wayne-Michigan ... Picture 1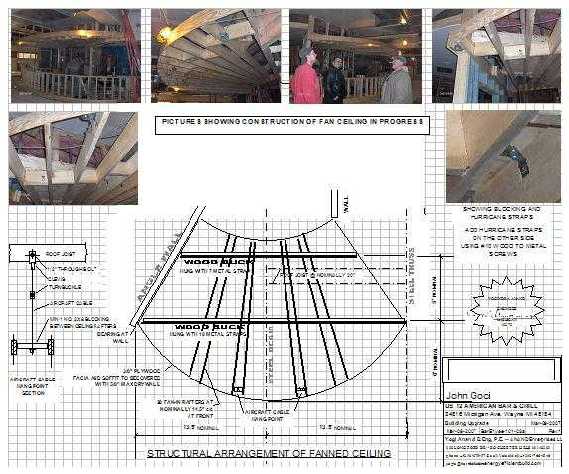 ANAND Enterprises project BarE1-101 Framing-for-Suspended-Fan-Ceiling-2_Building-in-Wayne-Michigan <! end Apr-20-2006 -->




beginning of Framing-for-Suspended-Fan-Ceiling-2_Building-in-Wayne-Michigan Mar-11-2007 Update

back to our Energy Efficient Building Network home page

Fill in the following form to subscribe to our upcoming news letter, to keep
up with our latest updates, and to tell us how we can help with your Dream Home building project:




Partner With Us
If you are involved with energy efficient building projects as:
Designer
Architect
Engineer
Contractor
Specialty contractor
Surveyor
Developer
Supplier
Financier
....
we invite you to tell us about yourself by filling in the special contact form
I have setup for your convenience. Let us see if we can create synergy
by utilizing our combined resources and create a win-win situation!



---


Yours Sincerely


Yogi Anand, D.Eng, P.E.

Energy Efficient Building Network LLC
308 Longford Dr -- Rochester Hills MI 48309 U.S.A.
Phone: +1-248-375-5710; Cell: +1-248-766-1546
yogi@energyefficientbuild.com